​
Celebrating Scottish Gaelic Culture and Music: Stafffinders' Dedication to the Mòd
​​
The Royal National Mòd, an annual celebration of Scottish Gaelic culture and language, recently took place in Paisley. This cultural extravaganza is a significant event in the Scottish Gaelic calendar, and this year, it was known as MòdPhàislig, as it was held in Paisley for the second time in its 132-year heritage. The first occurrence in 2013 had been a remarkable milestone, drawing one of the largest crowds in the event's history, and this year was no different, attracting approximately 8,000 visitors to Paisley.
​
As one of the event's oldest supporters, Stafffinders Recruitment Agency has a special connection with the Mòd. We have been an integral part of the event since 1978 when we gifted the Stafffinders Quaich, which is competed for annually in the prestigious Margrat Duncan competition for senior choirs. This competition is a highlight in the Mod, and the quaich is awarded to the choir with the highest marks in music in this competition. This year, Stafffinders had the honour of sponsoring theMòd once again.
​
The highlight of Stafffinders' involvement in this year's Mòd was the presentation of the Stafffinders Quaich to the winning group, the Black Isle Gaelic Choir. Not only did they secure the quaich, but they also won the coveted Margrat Duncan Memorial Trophy for the second year in a row.
​
In addition to our sponsorship of the Mòd, Stafffinders proudly supported one of our own employees who took part in the 'Our Language Our Music' concert. This remarkable event celebrated a night filled with the richness of Scottish culture, featuring traditional music and Gaelic heritage, and showcasing talented singers and bands from across Scotland. Louise, a highly experienced hospitality recruitment consultant at Stafffinders with 11 years of snare drum experience, played a pivotal role in this event. She joined her band on stage, the Kilbarchan Pipe Band, and enjoyed the event immensely.
​
The Royal National Mòd in Paisley was held from the 13th to the 21st of October and was an exciting and busy week for competitors and spectators alike. Stafffinders' continued support and active involvement in the event demonstrate our commitment to preserving Gaelic culture and language, and Stafffinders can't be prouder of our participation in the event.
​
Visit the official Mòd website for upcoming events, and consider volunteering, attending, or contributing to keep this rich tradition alive for generations to come.
​
​

Black Isle Gaelic Choir winners of the Stafffinders Quaich
​

Kilbarchan Pipe Band at the 'Our Language Our Music' concert
​
Kilbarchan Pipe Band at the 'Our Language Our Music' concert
​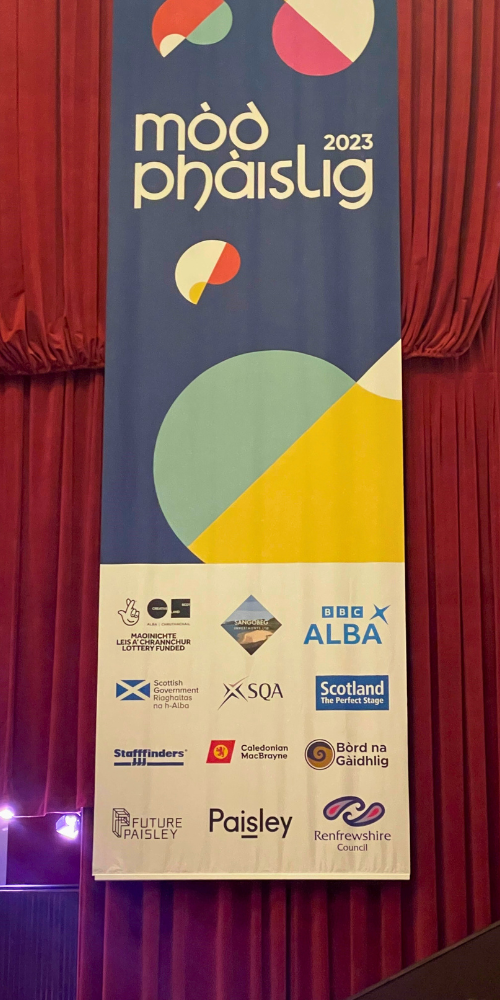 Stafffinders sponsors the Paisley Mòd 2023